I would never bet against the meat of a Sy Hersh story. He might have bits and pieces wrong at the corners, but the center gist will turn out to be right and stand up against all challenges.
The alleged "chemical attack" in Syria this spring by President Bashar Assad, the one that prompted US President Trump into his first attack on Syria, against Khan Sheikhoun?
Assad didn't "do it" because it wasn't actually a chemical weapons attack. Rather, it was the Russians, in a rare handoff, letting Assad use a Russian smart bomb, that appeared to hit agrichemical storehouses and or other chemical storage.
US intelligence agencies said there was no evidence of sarin at the scene. Hersh, working with other news, and his own sources, takes it from there. That includes
being cued in
on a conversation between a soldier on duty at an operational base key to the attack and a security advisor at an unattributed level.
And, this from said solider:
AS: I guess it really didn't matter whether we elected Clinton or Trump. Fuck.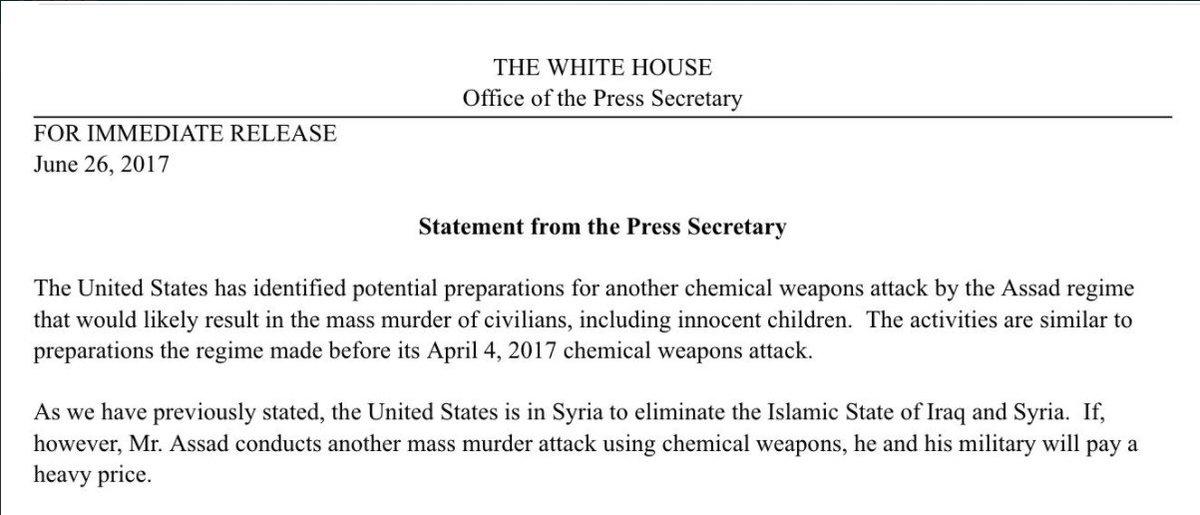 Unfortunately, Trump launched the attack of Tomahawks and claimed that it was due to an Assad sarin attack.
And is now lying about the idea that Assad is already planning another attack. Which he isn't.
Unfortunately there, as Hersh notes, warhawk Democrats domestically, and NATO allies abroad, both rallied around Trump's decision, even though it was based on a lie. And, as Hersh also notes, the Organization for the Prohibition of Chemical Weapons never maintained a clear custody trail of evidence since the April attack and also has yet to release official findings.
As for other people who have stood to gain from
known
chemical weapons attacks in Syria, like Ghouta?
I've already addressed that
. Turkey's President Erdogan is high on the list.
I saw the link to the original story from a reporter for Vice, IBTimes and other MSM outlets. In other words, he's buttered his bipartisan foreign policy establishment turd-polishing, to mix metaphors.
-->