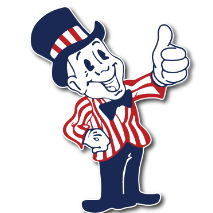 Houstonians awaited with either bated breath or anger (versus What? A Burger?) the arrival of In-N-Out, and
it's here now
. Hell, Helltown? You're LA with skeeters and humidity; you ought to love Cally burgers.
Second, New Mexico's
Blake's Lotaburger
makes a better, original green chile burger, while spelling the word right, too. STFU and SMH.
Ask El Pasoans, the Texas city that's really culturally part of New Mexico, was historically part of it until Texas stole it, and might want separation today.
The reality is that What? A Burger" love is "born here or got here as soon as I can virtue signaling, just like Chick-fil-A for the wingnuts. (And it may not have actually
kicked anti-gay folks
to the donations curb after all. However, the folks that claim it hasn't? They don't have any proof, just
Frankie Graham spinning
. Plus every Christian person with a picture on their Twitter feed just happens to be a white Merikan Xn.)
That said, some New Mexicans overrate Lotaburger, and I'm virtue signaling both in favor of New Mexico and against Texas exceptionalism, which is as bad as American exceptionalism.