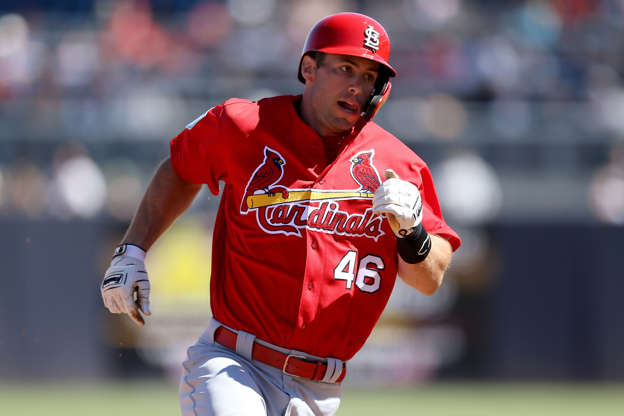 Paul Goldschmidt is Key 1 to the St. Louis Cardinals
First, let's get the preliminaries out of the way.
I am predicting the Birds will win the NL Central. See my poll at right for your shot.
Odds? I say 50-50 to win the division, with the Brewers at 2-3 against and Cubs at 3-5 against. Yeah, that adds up to more than 100 percent when expressed in percentages. So sue me. Second, yeah, I'm taking the Brew Crew ahead of the Cubbies.
OK, looking at Bats on Birds this year?
Key 1:
Paul Goldschmidt
. If he's the player he's been with the D-backs, he stabilized the batting lineup. He becomes a big part of generally improving infield defense. And, he is a clubhouse presence. That's why
I saluted the trade
, and welcome the new contract.
And three jacks in his second game as a Bird, none of them wall scrapers? Yep, he's the real deay.
No. 1
— MLB (@MLB) March 30, 2019
No 2
— MLB (@MLB) March 30, 2019
No. 3
— MLB (@MLB) March 30, 2019
Or, all three together:
— St. Louis Cardinals (@Cardinals) March 30, 2019
Key 2: The outfield. Either
Marcell Ozuna
must rebound from last year's shoulder injury (I still loathe Mo and Girsch for knowingly trading for him rather than waiting out the Marlins for
Christian Yelich
) or
Dexter Fowler
has to rebound to 2017 levels. (Better would be accepted, too.) They don't have to have both happen, but one must. Of the two, I actually thing Fowler is more likely. I think Ozuna had a career year in 2017, and that's another reason I didn't like the trade. Fowler, meanwhile, I think may relate better to Mike Schildt than he did to
Mike Matheny
.
Harrison Bader,
if one or the other of the corner OFs rebounds, must just be no worse offensively and defensively than last year. Improvement is of course welcome and is very likely.
Tyler O'Neill
must cut down on Ks (and ideally, make it easier for the team to let Ozuna walk after this year), and
Jose Martinez
must show enough glove improvement, especially if both Ozuna and Fowler bounce back, to earn at bats here as well as 1B.
Key 3: Pitching health. The Cards have a lot of depth — if it's there.
Alex Reyes
must stay healthy if the bullpen is going to be as lights-out as it could be.
Andrew Miller
must find 2017 health levels. If these happen,
Carlos Martinez
still works better in my book as a starter — unless Reyes shows the goods on pitch variety to move there.
Michael Wacha
also needs to stay healthy. I mention this players because of health concerns.
Key 4: Other infield issues.
Kolten Wong
also needs to stay healthy.
Matt Carpenter
at 3B needs to trust Goldy defensively, and be passable rather than a big detriment with his arm.
Key 5: I know he wants to play, but Schildt wants him playing in October. The aging
Yadier Molina
needs to accept an occasional extra day off. Playing 3-5 fewer games than in a past normal year and starting 5-7 fewer sounds about right.
Key 6: He showed no health issues last year, nor in Japan or previous MLB years. Not expecting any. But,
Miles Mikolas
, while he may regress a modest to moderate amount, can't be a one-year wonder. (Unfortunately, he gave up three jacks, including one to Yelich, in the opener.)
Rest of NL Central:
Brewers look solid. Didn't make huge changes; didn't need to. If there are no major slumps from last year, they're OK. If not?
Cubs? I expect a fall-off from
Jon Lester
for sure.
Ben Zobrist
also likely to hit aging curve.
Reds will finish ahead of Pirates.
NL East:
Weird division. Mutts, even, getting pics for first place. I don't see it. I think Phillies build on
Bryce Harper
plus a year of maturing to win the division. Braves second. Mets third. Nats slump to fourth and look at rebuilding. Marlins get recommissioned to AAA ball.
NL West:
A week division, weakest of the three in the NL. I'm going to go Rockies first, then Padres. Combo of
Manny Machado
plus being bold on
Fernando Tatis Jr.
says they sneak past the Dodgers. I expect Big Blue's pitching to crumble, starting with
Clayton Kershaw
. Snakes take fourth and Giants are looking to next year.
Wild cards are Cubs and Brewers.
AL East:
Still Boston's to lose until the Yankees do it. Rays a solid third. Jays fourth and Orioles playing with the Marlins.
AL Central:
Cleveland's to lose this year. Twins will finish a solid second but out of playoffs in weak division. White Sox a distant third. Royals, Tigers, already playing for next year.
AL West:
Houston's the team here, like Boston in the East. Seattle will finish just ahead of Angels for second, who are just ahead of A's for third; Angels will show small bits of hope above last year with
Mike Trout
and
Shohei Otani
.
Albert Pujols
will have more ABs than last year but be kept under 550. Rangers aren't immediately playing for next year but will be by All-Star break.
(Pujols will move up the career rungs in several major stats, including top five in total bases, RBIs, and home runs, if he stays healthy and is no worse otherwise than last year; I will have a separate piece on him.)
Wild cards are Yankees and Rays.