The
Chicago Cubs
just signed former St. Louis
right fielder
(and pretty much ONLY a right fielder)
Jason Heyward
for $184 million over eight years.
ESPN says
it has not just one but two different opt-out provisions.
(Update, May 7, 2017: After a suck-ass 2016, everybody said Heyward had rediscovered his swing in spring training. He must have lost it somewhere between Arizona and Wrigley. And ESPN notes that the Barves, looking at keeping only Heyward or Freddie Freeman, saw holes in Heyward's swing three years ago, and so were willing to trade him to the Cards.)
And, parsing various news, it seems like the
Nats
could also, instead of, or in addition to, the
Cardinals
, were that $200M team that was rumored to be in on him.
That said, Heyward reportedly turned down
not just one but two offers
that were better. However, the Sun-Times may be out of date on that.
Another source says the Just Say Go Away Kid had not 1, not 2, but THREE offers better monetarily than the Cubs
You heard that right:
Source: Jason Heyward turned down three offers higher than the $184M he took from the Cubs, including two of $200M+.

— Jeff Passan (@JeffPassan) December 11, 2015
Weird. But it is what it is.
So, Cardinals GM John Mozeliak, despite my initial anger, may have done OK after all. For whatever reasons, maybe that second opt-out option was the deal swinger, or a joint deal-swinger with the higher average annual value.
(
Update, Dec. 22: Color me unimpressed by details of the Mike Leake signing.
)
And, per Ken Rosenthal, this is what those opt-outs are:
Source: Heyward can opt out of deal with

#Cubs

after year three or year four if he exceeds certain plate appearance thresholds.

— Ken Rosenthal (@Ken_Rosenthal) December 11, 2015
Jeff Passan of Yahoo has a bit more on those opt-outs:
Opt-outs in Heyward's deal have high $ value, and it's not clear what AAV were in other deals. Still, turning down guaranteed $ is uncommon.

— Jeff Passan (@JeffPassan) December 11, 201
And, we know how agents sometimes try to sell players on something. Maybe whoever at Excel Sports Management is his representative said something like:
"Hey, Jason, this is kind of like player options, only better. AND, you get to enter history as the first player with not one but two opt-outs!"
And (and assuming I'm right about that second sentence), Jason Wayward (sic) bit.
And, with that said, and appreciating the pyrotechnics of a Cards fan on Twitter, let's get to the two different subjects of the headline.
First, the Cardinals moving on.
To whom?
Sadly, to nobody, it seems,
according to Mozeliak
, who is now making me angry at him again.
What should he do, instead of "nobody," IMO?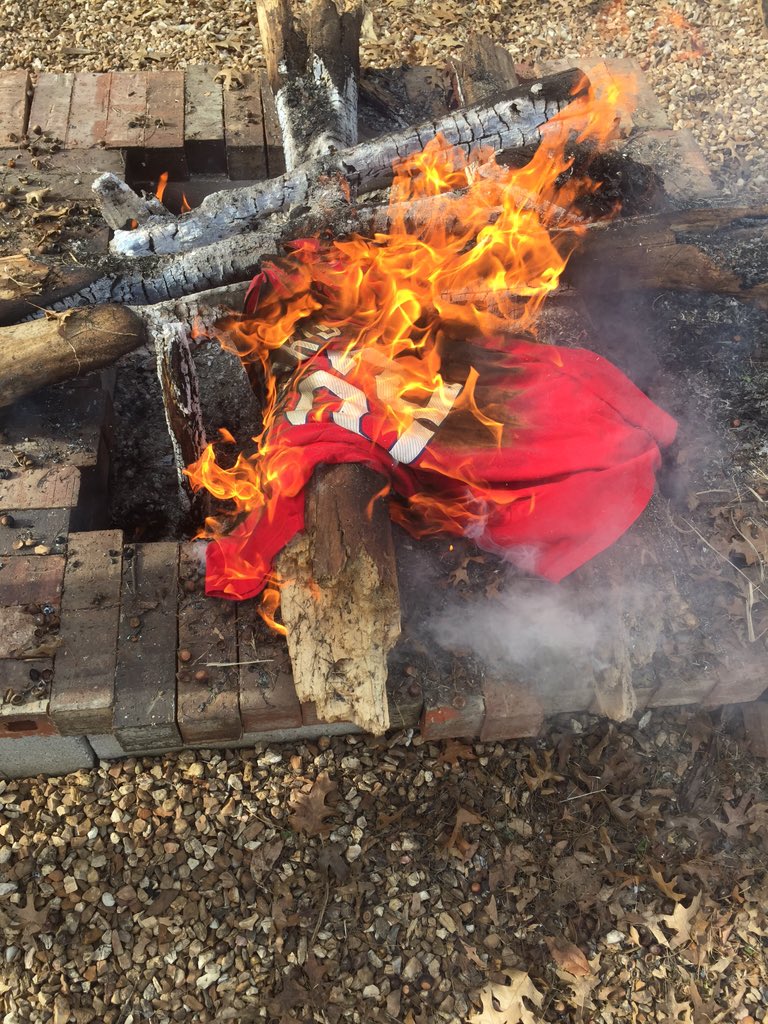 Orioles 1B free agent
Chris Davis
is my No. 1 choice, albeit with hedges and reservations.
Davis would be ... interesting.
The
Cardinals
haven't had his type of power bat since 2011, when
Phat Albert
went to Anaheim and whatever the hell other cities in Southern California Arte Moreno wants named after the
Angels
. (Sorry, Cards fans, but while
Matt Holliday
has had decent pop in his bat, he's not in the same slugger class.)
And, a creative, frontloaded six-year contract with option years maybe could land him.
Picture six years, $156M (more than $25M AAV) at $27/$27/$26/$26/$25/$25. Then, two team option years, again front-loaded, at $27M and $23M. Team buyout would be $10M on the first to make Davis and Boras more happy, and $3M on the other one.
But, aren't there options?
Alex Gordon
?
Yoenis Cespedes?
Well, they'd both be cheaper, but, neither plays right. So, is
Stephen Piscotty
ready to be a right fielder with the Cardinals playing
Randal Grichuk
in center if Heyward is gone? That said, Cespedes has played some center in his past, which would theoretically let Grichuk go to right, but it's been occasional, and he's been below average. (Per Sportrac, the market for actual right-fielder free agents
ain't that good
.)
And, no, Ben Hochman of the Post-Dispatch,
moving Gordon to first
ain't a good option either. Mo will probably claim it is, though, if that's the spinning that needs to be done. (Gordon is now off the market, staying in KC.)
Piscotty in right? I'm sure that's not
Mike Matheny
's preferred managerial option either, but, it's doable. Piscotty did play primarily right in Memphis and was OK to OK-minus defensively. And, he's not got the arm that would give him plus value to offset OK-at-best range.
That said, Davis would give them that masher that the Cards have had at first base, with Pujols, and
Big Mac
before him, then
Pedro Guerrero
(a semi-masher), then
Jack Clark
back in the middle of
Whitey
ball. I mean, the 1982 Birds with the
Merry Mex
at first are the only Cardinals World Series team in the last 50 years to truly skimp on power at first. On the other hand, Davis is a Boras client, and the Cards have generally avoided dealing with him and vice versa.
Is
Matt Adams
the answer at first? Matt Adams platooning with
Brandon Moss
and a cameo from
Brayan Pena
?
Probably not. What Cards fans saw in 2014 is likely near Adams' ceiling, and that involved some judicious platooning. Moss might be worth more as part of a trade to an AL team for whatever. And, with Heyward "walking," and worse, walking within the division, the Cardinals need a real answer, not Band-Aids.
My No. 2 option?
Justin Upton
. Only two years older than Heyward. Two years younger than Cespedes, and two and a half younger than Gordon. Not a good defender, but not horrible, and can play right and has in the past. Strikes out more than Heyward, yes, but has more pop and almost as much speed. Might he take a three-year deal, straight up, for another taste of free agency after his age-30 season?
My No. 3, risks and all?
Denard Span
. Yes, also a Boras client. But getting even less buzz than Upton so far. Can play center or right. Might accept a short-term deal to rebuild value. Also has the advantage of not costing a comp draft pick.
(
Update, Jan. 9: The Cards whiffed on Span, with the Giants signing him to a relatively non-risky three-year deal, analyzed by me here.
)
An old friend of mine wondered about the Reds' right fielder,
Jay Bruce
. Walt Jocketty hasn't mentioned dumping him yet — he is in the last year of his contract, so he fits that profile. That said, he has badly declined the last two years. And a two-year dry spell, not just one year, makes me very iffy, unless Walt takes a bag of peanuts for him.
That said, on to ...
Part two, and the Cubs possibly overpaying.
How much is Heyward's defense worth, when he doesn't have a corner OF's bat, and when the Braves didn't play him much at center, for various reasons?
Some might cite
Roberto Clemente
. Cite away. He had a great arm, but B-Ref gives him "just" 12 career dWAR. Plus, while WAR itself still draws critics, dWAR, and defensive sabermetrics in general, draw even more.
Hence,
this piece by Sports Illustrated
, attempting to suss out various GMs on just what Heyward is worth. You'll see that they're all over the place.
And, per ESPN, it seems for now the Cubs plan to put Heyward in center, keep
Jorge Soler
on the team and in right.
Dexter Fowler
, somewhat defensively challenged, patrolled center for the Cubs last year.
Now, Heyward is moving from the fifth-largest park in baseball, in terms of fair territory, to the second-smallest,
per this link
. So, he'll have less territory to cover than he would have at Busch, had he played center there.
As for the idea of him playing center?
The Cardinals and Braves combined played Heyward just 32 games in CF. Per Baseball-Reference, going by range factor per nine innings, he was pretty well below average. Call it small sample size or whatever, but the Braves had five years to try to convert him to a center fielder, and didn't.
And, they didn't have defensive geniuses in center in Atlanta. For 2010-11, it was
Nate McLouth
, not anybody's idea of a great defensive player; for 2012,
Michael Bourn,
who had one of his good years in CF defensively. For 2013-14, it was
Melvin Upton
, OK-plus the first year and OK-minus the second, but so much teh suck with the bat that the Barves should have benched him, moved Heyward to CF and started somebody else, like Toe Jam, in right.
Nor did the Cardinals have a defensive genius. Before Grichuk's call-up, it was
Jon Jay
out there. Jay wasn't bad, but he's not a defensive genius.
So, is Heyward mentally averse to playing center? If so, the Cubs may have overpaid a lot. Per that SI piece, he may have plateaued with his bat. And, per Baseball-Reference, while Heyward's defense in right was valued, especially in a larger park, as far as the perceived defensive worth of the position, Runs from Positional Scarcity
treats RF the same as LF
.
And, if it was something weird, like a second opt-out (perhaps combined with front-loading the first three years), then let's move on. Far be it from me to agree too often with the Post-Dispatch's Jeff Gordon, but
he's halfway right on this
(as well as being halfway right about Mo not always being GM genius).