Adrian Peterson
Update, Sept. 15: The Vikings
have reinstated Peterson
. Ball's back in your court, Goodell.
Update, Sept. 17: Whether worried about the loss of Radisson corporate sponsorship money or whatever, the Vikings have changed course again and
put AP on the exempt list
.
Earlier this week,
I blogged about
how the Baltimore Ravens and National Football League Commissioner Roger Goodell dumped
Ray Rice
to the side and then ran over him.
Other than the Shield trying to protect an increasingly tenuous job security, I wondered whether or not something like this would have happened if if Ray Rice weren't Ray Rice, but rather were
Adrian Peterson
or
Jamaal Charles
, or
Marshawn Lynch
or
Frank Gore
or
LeSean McCoy
. If he were triple the running back, AND had triple the cap hit and without the possibility of NFL cap relief, he might just be wearing a Ravens uniform seven weeks from now.
That said, now Peterson
is in his own hot water,
now updated
with an arrest warrant
, for child abuse. Let me say to start with that you have to hit a kit either very hard, very frequently, or both, to get charged with child abuse.
Update: And,
complete with photos
, showing welts, even scars, AP, proudly boasting of having a "whooping room," hit his son both very hard, and very frequently, when he had custody.
Here's your key paragraphs. I can't call them the usual journalistic term of "nut grafs," given what happened on at least one beating:
Peterson also told the boy's mother about his son's injury to his privates, CBS reported.

"Got him in the nuts once I noticed," he texted.

The demented dad appeared to revel in his brutality. He didn't think he did anything wrong.

"Never do I go overboard!" he texted. "But all my kids will know, hey daddy has the biggie heart but don't play no games when it comes to acting right."

Police reports obtained by the Houston station show the 4-year-old boy feared his father would punch him in the face if he reported the beating. He said his father had previously beaten him with belts.

Peterson, the boy told his mom, has a "whooping room."
Adrian Peterson, beneath that charming outward persona, is a thug. And, I don't care if he thinks God is on his side in his thuggery, either:
Friday, Peterson posted a religious message on Twitter that may or may not have anything to do with the case.

"Its your season! Weapons may form but won't prosper!" he posted. "God has you covered don't stress or worry!"
Nor, beyond the sadness of his childhood, do I care that
he claims he's a Christian
. He's obviously violated the "go and sin no more."
Unfortunately, I think that, even more than whites in red states, "spare the rod and spoil the child" is still a commonality among small town blacks in Texas/the South.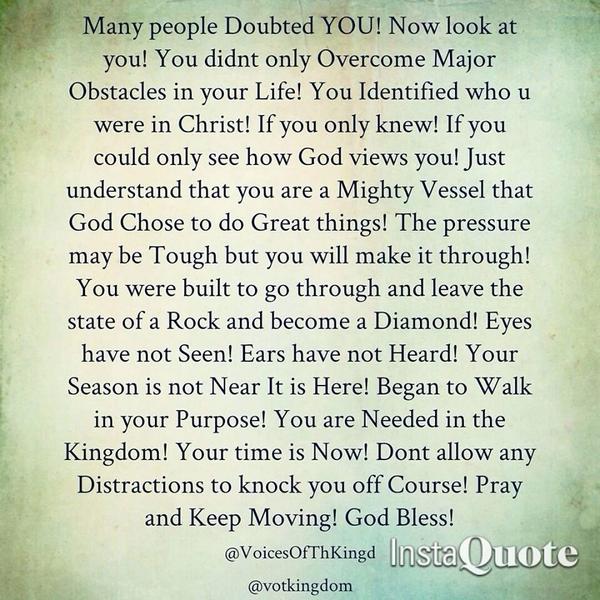 Sadly, a lot of black NFLers
are proving me right
. And, per this Twitter picture, as shown, so is Peterson himself,
on his Twitter feed
.
The Vikings, without calling it a suspension,
appear to have suspended Peterson
.
That's better than the case of
Ray McDonald
, where it seems that his boss, 49ers head coach
Jim Harbaugh
, is joining the commish in the ranks of the hypocritical. From
a Grantland piece
, speculating on Goodell's future:
Three days after the new domestic-violence penalties were announced, Ray McDonald

was arrested and charged with domestic abuse

. It happened at his 30th birthday party, when police showed up to his house at 2:48 a.m. and found his pregnant fiancée with "bruises on her neck and arm," which led police to take McDonald into custody. McDonald later professed his innocence and

said

"the truth will come out." Niners coach Jim Harbaugh

said

, "If someone physically abuses a woman and/or physically or mentally abuses or hurts a child, then there's no understanding. There's no tolerance for that."
But, McDonald played the first Sunday. Harbaugh might argue for legal due process to a conviction, but he'd still sound hypocritical.
And, since Goodell is supposed to be the commish of all 32 teams, he now looks inconsistent if he doesn't, erm, encourage Harbaugh to, erm, "deactivate" McDonald, doesn't he?
Of course, looking inconsistent isn't as bad as looking like a liar, which more than 60 percent of fans think about Goodell's claims to have known nothing about Rice's knockout punch on his then-fiance until
TMZ released the security video
from that hotel. Now that we know that
somebody
at NFL HQ
got a copy of the tape months ago
, that's obviously not true.
Now, the Peterson case isn't of the same nature as Rice's, but, per Harbaugh's toothless quote about Ray McDonald, Peterson has been indicted because he allegedly "abuse(d) ... a child."
And, to square circles, to connect Peterson and Rice, here's
this
:
"The Adrian Petersons of the world create the Ray Rices of the world," wrote Kris Huson, a St. Paul woman, referring to the former Baltimore Ravens running back seen on video that emerged last week delivering a knockout punch to his now-wife. "Leaving bloody marks and bruises crosses legal line."
That is often, sadly, what results.
How NFL owners can tolerate having him still in charge when he's clearly, per Bill Simmons,
an out-of-control idiot
, I don't know. Even a league-friendly "internal investigation" doesn't have that much whitewash.
Let's also not forget that the class action brain damage lawsuit by former players also continues to involve
NFL stalling and worse
.
The NFL has a growing PR crisis on its hands; owners looking at their gravy trains, if nothing else, have to be getting nervous, don't they?
===
Sadly, the Peterson case also involves two other issues.
One is that Peterson has already become the father of three children by three different women. We've seen plenty of other stories about A-level athletes going broke due to child support costs. (That said, were I a woman chasing rich athletes? I'd be taking the Pill; why the ones who actually do the chasing don't to the Pill, unless they deliberately want that "little bundle of joy," or bundle of other things, I don't know.)
Second is, also per the link to the story with photos, and now, his Twitter feed, Peterson's invocation of God. This one comes off as even more phony than Tim Tebow.
Third, shouldn't genius lawyer Rusty Hardin be doing more to get AP to STFU? If that's possible?