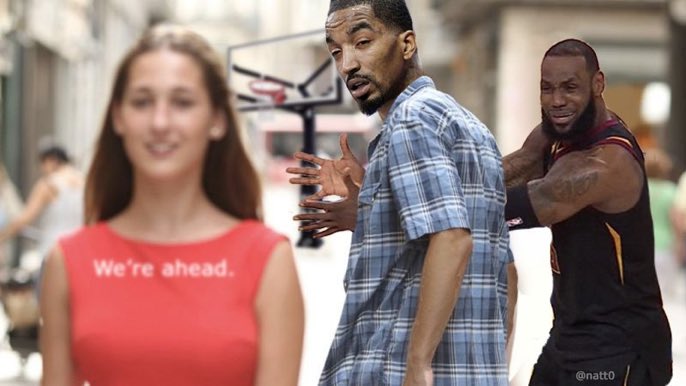 JR Smith, as nailed on Twitter
JR Smith
doing his
Chris Webber
at the end of regulation was bizarre. Whether more or less bizarre than
his Friday spinning
claiming he knew the game was tied vs. Thursday seeming to say "I thought we were ahead" is debatable. That said, he arguably could have been saying "I thought we were ..." whatever else follewed. Update, June 2: JR admits people know how to read lips
and that he fucked up
. Nice that he didn't stick with the BS.
Klay Thompson
's brain fart of his own on D right before that, eventually forcing the foul on
George Hill
and the 1-of-2 free throw shooting, was bizarre for sure.
Kevin Love
playing not just OK, but actually good defense, at least for him, even on
Steph Curry
, was definitely bizarre.
Tristan Thompson
being charged with not just a flagrant, but a flagrant 2, on
Shaun Livingston
at the end of OT was definitely bizarre. And, we'll have to see if the punch to
Draymond Green'
s face on top of that is enough for a Game 2 suspension. It should be. (Update: The foul, rightly, has been
reduced to a flagrant 1
; he gets a fine for the Draymond incident, but no suspension.)
King James getting ready to strangulate JR Smith.
NOT bizarre — the reversal of the call on the
LBJ
/
KD
play to call the King for a block. As I saw it, he didn't finish his slide left until Durant was already pushing off his jump plant foot. That's a block. I agree with Stan Van Gundy, though, that fouls should be an all-or-nothing on when you can review them.
Update:
Refs stand by reversal of call
. They would have had to huddle, anyway, whether with video or not, because they disagreed from the start. Read the whole piece, about the difficulty of reffing, the self-review they have to do and more.
Besides, in a regular season game, a similar reversal, off video,
has already occurred
.
And, sorry to Ken Silverstein, but since the Dubs aren't my most fave team, but, at the same time, they're your NBA version of the Patriots, I think my credibility here is as good as yours.
Beyond that, after the way James mugged Jordan Bell in game 2, and Bell then got called for the foul? He personally and Cavs fans in general got NO room to bitch. (Bell went off on LeBron afterward
with definite NSFW language
.)
(And, per alleged increases in player-ref issues this year? Hell, refs could throw 4-5 Ts a game, easy.)
Most bizarre of all?
That last 27 seconds of OT between the Cavs' missed last shot attempt and Thompson's foul.
Cavs are only down eight. But, they essentially surrender. Nobody's trying to steal the ball. Nobody's fouling any Warriors, whether after an attempted steal or no steal attempts. Sure, you don't want a 5-minute hackathon, but for one or two possessions, don't you have to foul, put a Warrior on the line, then try to hit a quick 3-ball at the other end? And, IMO, that's in part on
Ty Lue
. If he's seeing the players give up, and he's not pushing them, then it's ultimately his surrender.
Other thoughts?
Warriors looked chippy in the third. They looked like they were going to start one of their patented runs, then a mix of poor ballhandling, indecisiveness and poor movement killed that idea.
Draymond got lucky on his late game 3's, but
Steve Kerr
still needs to chew his butt for shooting that many.
Kevin Looney
was OK, but Livingston was a stabilizer and all around good player tonight. Assuming
Iggy
is still out, I say, let's see a few more Livingston moments in Game 2.
The Cavs, beyond Hill's missed free throw and JR's brain fart, in general missed a chance to steal a game they needed to steal sometime, preferably before Iggy's return.
The reffing in general was chippy, or crappy. TT shouldn't have been charged with any flagrant, let alone an F2. Several clean strips were called fouls.
Maybe both teams were tired from tough Game 7 efforts in the conference finals, as far as a bit of the brain farts. Still, they had three-four days to rest.